Adobe Sign is a secure paperless solution that eliminates the need for the physical use of paper forms to request and collect signatures. All active faculty and staff are eligible to request an account in order to distribute forms for the collection of electronic signatures. An electronic signature is an electronic representation (usually an image of a signature) used by a person as an alternative for a handwritten signature. Signers can fill, sign, and return completed from any device in minutes, and the requestor can track each step from beginning to end. NOTE: Signers, including students and non-LMU affiliates, do not need Adobe Sign account to sign forms.
In the fall of 2019, LMU eSignature Policy was approved by the university. You are able now to collect electronic signatures and store signed documents digitally
To get started, follow these steps below.
You can fill and sign any PDF file, whether it is an interactive file (fillable) or not, using the Acrobat version on your computer. If you don't know which Acrobat version you have, click Help on the Main Menu.
For mobile devices, you can down the Adobe Fill & Sign mobile app.
ITS will create an account for you upon your completion of the online training. A personal account has limited features and does not have LMU branding. How can you tell if you are using an Adobe Sign personal account? Visit this page.
Step 1 - Is Adobe Sign the Right Tool?
Adobe Sign may not work for all cases and works best for the uni-directional collection of one or more signatures on simple forms. The table below will help you determine if Adobe Sign is the right solution for your e-Signature needs.
You can also follow this flowchart to determine if Adobe Sign is right for your needs. For use cases that will not work in Adobe Sign, please contact ITS to request a consult for an alternate solution.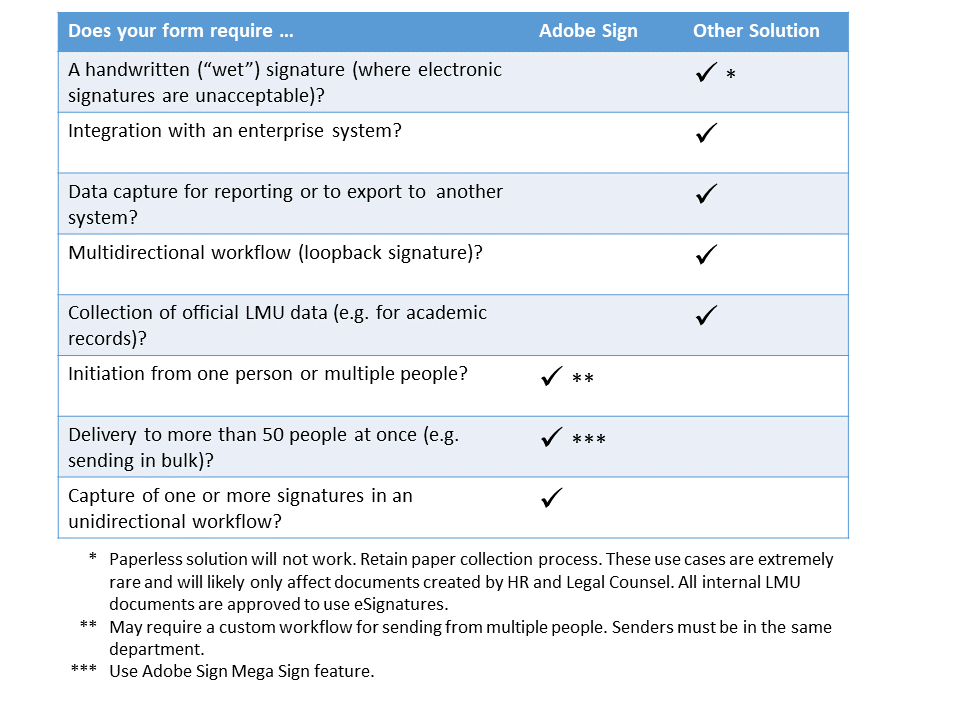 Step 2 - Complete the Online Training
If Adobe Sign is the right tool, complete this brief online training to request an Adobe Sign account to distribute agreements.
NOTE: Do not sign up for an Adobe Sign account with your LMU/LLS email.
Step 3 - Learn How to Request Signatures
Quick Steps - Download this step-by-step instruction to follow along.
Self-Paced Training - Refer to the Tutorials section below.
Login to Adobe Sign Online
There are many ways to access Adobe Sign. To make the most of all available features, we highly recommend that you use the Adobe Sign Online. Follow these steps to login to the online platform.
You need to complete the online training first. See Step 2 above. DO NOT create an account with your LMU/LLS account. Once you complete the online training, ITS will create an account for you.
On the Adobe Sign login page, click "Sign In" on the top-right corner.
In the Email field, type your email address. Click the Password field. You do not need to enter your password here.
Wait a few seconds.
You will see the LMU Authentication page. Enter your username and password.
Adobe Sign FAQs
If you have a question not listed below, please email the ITS Service Desk at servicedesk@lmu.edu.
No. The recipient or signer does not need an Adobe Sign account to sign. You need Adobe Sign account if you need to distribute forms for others to sign.

Yes, anyone, including LMU students, can sign a form.

Per LMU's Acceptable Use and Electronic Signature Policies Adobe Sign users should take due care when procuring or transmitting sensitive information. ITS does not recommend the use of Adobe Sign for the procuring or transmitting of any sensitive information, particularly data that will be used for LMU Official records.

If you still have questions or unsure if Adobe Sign will work for you? Visit the official Adobe Sign FAQ or contact the ITS Service Desk.

No, Adobe Sign is not meant to be used with group email addresses. Because it collects legal signatures, it is meant to be sent from person to person. However, there is a way in Adobe Sign to create groups and share access to documents between individuals within the group. ITS can assist with creating the groups once individual accounts are established.

You can modify form fields for sent documents under the following conditions:

The document has not been signed, approved, or delegated to a signer or approver by the delegator to whom it was assigned.
The document does not include a digital signature or written signature.
The document has not been initiated from a custom workflow.

However, you cannot modify the message or add/remove any recipients. Please see this Adobe Sign help document for instructions on how to modify an in-flight document.

You can also modify recipient email addresses or assign alternate signers to existing recipients for sent documents. Please see this Adobe Sign help document for instructions on how to do so.
Knowledge Base Articles
LMU's ITS Knowledge Base (KB), part of the ITS Service Desk Portal, contains hundreds of articles on commonly asked technology questions, covering Brightspace, Zoom, Adobe Creative Cloud, and other categories.
Below are links to KB articles covering aspects of Adobe Sign not covered on this page. For LMU's Adobe Sign Preview slide deck, click here.
Basic Information
Advanced User Guides
Custom Workflow
Microsoft Outlook Add-In for Adobe Sign
Web Forms