Students looking for Brightspace information, click here.
____________________________
Faculty: Getting Started
To best prepare for upcoming courses, download the Brightspace Essentials quick guide prior to the start of the semester. You may also want to check out the Brightspace tutorials listed and linked below and to the right, or contact your Instructional Technologist if you require further support.
Brightspace News and Updates
Brightspace courses for Spring 2020 semester are now available. Please login to Brightspace to start working on your courses now.
If you need assistance, please reach out to your Instructional Technologist.
If you'd like your courses merged, please email helpdesk@lmu.edu with the Course Name and Section Number of the courses in question.
Scroll down for a quick guide to start-of-the-semester Brightspace tasks, or click here for next-step tasks.
Additional Brightspace Resources
_____________________________________________________________________________________________________________________
1. How to Copy a Course From a Previous Semester
Go to your NEW Course> Course Admin Click Import/Export/Copy Components
Choose "Copy Components from Another Org Unit"
Choose "Search for Offering"
Enter the name of your old course and click the magnifying glass
Choose your OLD course > Add Selected
Choose "Copy All Components" to copy the whole course or "Select Components" to copy individual parts of the course.
2. Logging In to Brightspace
You can log in to Brightspace two ways:
Visit MyLMU
Select Systems Logins
Select Brightspace
Or
3. Merging Courses
In order to merge courses, email helpdesk@lmu.edu with the following information:
Course 1 Name, Number, and Section (CRN)
Course 2 Name, Number, and Section (CRN)
[additional courses]
Preference for which course to merge students into

Do you have existing content in any sections/courses?
Ex: Merge ACCT-2110-01 (70269) with ACCT-2110-01 (70270). No preference, no content exists
4. Adding a Co-Instructor or TA to Your Course
Click Roster > Add Participant/Add Existing User > Show Search Options (only the first time)
Search for your user and press "Enter"
Check off the name of that individual on the left
Choose a Role on the right
Click "Enroll Selected Users"
*Do not enroll students manually. PROWL will do this automatically. If students are in PROWL but not Brightspace, please contact helpdesk@lmu.edu.
5. How To Make Your Courses Inactive In Brightspace
Log in to Brightspace and enter the course
In the NavBar, click Course Admin
Under Site Setup, click Course Offering Information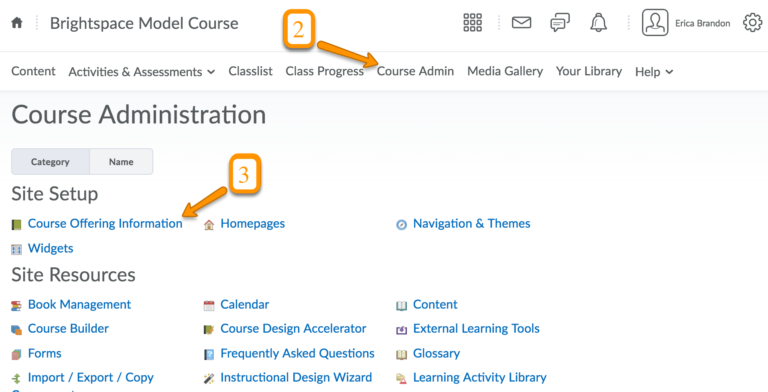 Click the box under Inactive then Save
6. Accessing Your Courses, Option 1
Hover your mouse over the picture tile above the courses' name
Click on the three dots in the top right corner and choose "Pin"
Tip: Pin Your Course to make a shortcut on your main Brightspace page allowing you to get to your courses quickly after at login.
Accessing Your Courses, Option 2
Click "Select a Course" at the top of the page to search
Select your course
Tip: Click on the pushpin to the right of the course's name, to keep the course highlighted at the top of your list.
7. Adding Content
Click on "Content" at the top of your Brightspace front page.
In the "Add a Module" box on the left side, type a name such as "Syllabus, Week 1", or "Homework Files" and press Enter.
Drag and drop a document from your desktop onto the dotted area.
Tip: In Brightspace, Modules are like organizational Folders.
8. Posting an Announcement
Click "Course Admin" on the top banner/menu
Select "Announcements"
Select "New Announcements"
Compose your message
9. Sending an Email
Click "Roster" on the top menu/banner
Select "Email Roster" to email all students
To email select students, check the box to the left of a student's name. When you've checked all the boxes you need, click "Email"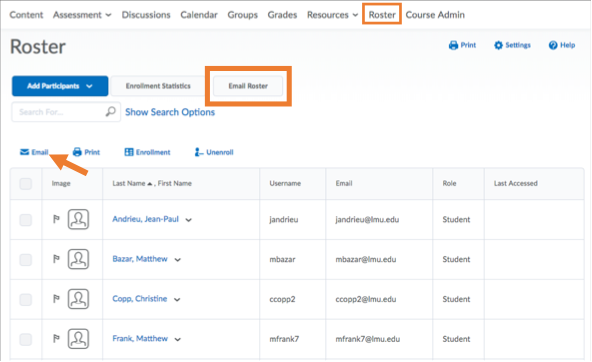 ___________________________________