Adobe CC for Students
LMU and LLS do not provide personal-device access to Adobe Creative Cloud for students. However, all students can access Adobe CC on shared computers using a free Adobe ID.
Sign up for a free Adobe ID by selecting "Get an Adobe ID". It is recommended you use a personal email address for your Adobe ID, so you can continue to use the Creative Cloud after graduation.
Students who would like Adobe CC access on personal devices can purchase a license at a discounted monthly rate. Make sure your computer meets the system requirements before making a purchase.
Access Adobe CC on a Classroom/Lab Computer
Using any computer with Adobe CC installed:
Open any Adobe CC app or the Adobe CC Console
Important: If someone else is logged in, log that user out
Log in using your Adobe ID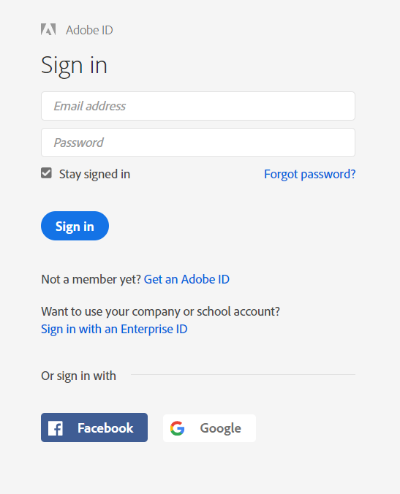 Remember to log out of Adobe CC when the class or lab session is complete.
Learn How to Use Adobe CC Apps
Adobe Creative Cloud Help Center (download apps, update payment info, create Adobe ID, and more)
LinkedIn Learning - You need to activate your account first. Enter your LMU/LLS email address. You will be prompted to enter your username and password on the LMU Authentication page.
Need more help?
Contact the ITS Service Desk: